From miner to jeweler:
actors in the fair trade gold supply chain
The principles of fair trade applied to gold require greater transparency and responsibility of all participants in the gold supply chain, including producers, traders, refiners, jewelers and certification bodies.
Community mining organizations, producers of fair trade gold
Positioned as they are at the upstream end of the supply chain, gold producers are the starting point of any fair trade initiative. As such, fair trade gold certification can be granted only to community mining organizations, as defined by the Alliance for Responsible Mining (ARM): "a community mining organization is composed of a majority of members or shareholders who are active miners and who, as members, contribute to the social and economic development of their local community." Those miners' organizations wishing to participate in this process must make significant efforts to comply with the minimum requirements for certification.
Refiners and jewelers,
promoters of fair trade gold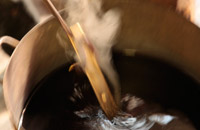 Trade relations between these producers and traders and refiners are the focus of fair trade as applied to gold. Any industry participant wishing to obtain the advantages of the upcoming independent "Fairmined" fair trade gold label must commit to making all of its direct purchases solely through one of these certified organizations. This fair trade certified gold will be acquired at market price with a guaranteed minimum price set at 95% of the listings on the London Bullion Market Association (LMBA), the premier marketplace in the world gold trade. Once it has been certified, this gold will be assigned a fair trade premium. This development premium will be managed collectively by the miners with an eye to the future. It will be used to make investments whose benefits will be enjoyed by all, such as in health centers, training facilities and profit-yielding investments.
In addition, traders and refiners must also commit to annual purchase volumes, while providing pre-sales financing in the form of advances on deliveries, to guarantee that mining communities have the autonomy they need to ensure their social and economic development.At the downstream end of the supply chain, jewelers who buy from local refiners or directly from the mines will then become holders of the "Fairmined" label. Displayed on their jewelry and their creations, this label will provide consumers with a fair trade guarantee, synonymous with a highly socially relevant gold. Available at first only in the United Kingdom, the label will be gradually promoted globally.
To learn more about these standards and the traceability of fair trade gold.