Definition of fair trade gold: application of the concept of fair trade to that most precious of all commodities
While the fair trade movement has been gaining momentum since the late twentieth century, the development of fair trade gold is much more recent. The first notions of fair trade gold standards actually date back to 2005, at the initiative of the Alliance for Responsible Mining (ARM). Founded in 2004, the association came up with the first "Standard Zero" for fair trade gold, and the Fairtrade & Fairmined Artisanal Gold standards - which were created in March 2010 under the joint leadership of the ARM and Fairtrade Labelling Organizations International (FLO).
Handmade gold,
with high added social value…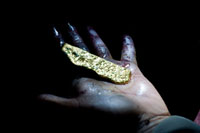 Fair trade gold can truly be described as "handmade" gold. It is produced by craftsmen, working in artisanal mining operations that create true communities of miners. This artisanal mining is truly different from the industrial mining operations of major international mining groups, which are characterized by low added social value and have only a limited impact on local revenues. When an artisanal miner sells his "manually" produced gold, virtually all of the money he receives is spent locally and not re-exported in the form of dividends or the import of consumables, machinery or technology. What is more, by enabling these miners to pursue a profession in rural areas artisanal mining contributes to the fight against mass migration into the big cities.
Unlike the illegal gold panning operations found notably in French Guyana and Brazil, this artisanal mining is legal, well organized and profitable. It uses efficient and socially- and environmentally-responsible technologies, especially with regard to the responsible and precision use of reagents such as cyanide and mercury. These mining communities are growing under conditions of good governance, legality, inclusiveness and respect for diversity.
… contributing to local economic development
Artisanal mining provides the populace with a supply of decent work, contributes to local economic development and provides a better social distribution of non-renewable resources, thereby helping in the fight against poverty and in favor of social harmony in those countries.
The "responsible" artisanal mining-produced gold therefore has a
"very strong human value"
as well.