Our Offer
Traceability
In 2007 we established a specialized refining service, via our Aurfina refining subsidiary, allowing us to ensure the full traceability of all refined metals. We are now the first refiner to process the gold produced by the fair trade gold pilot projects, on which the standards defined by the Alliance for Responsible Mining (ARM) were tested. In the near future, these mining communities will enjoy the benefits of the first independent label certifying that mining operations are compliant with the Fairmined standards for fair trade gold.
Quality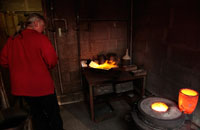 Fair trade jewelry-quality gold is produced exclusively in our own refining facility by seasoned professionals with thirty years' expertise.
We offer this fair trade gold from the mining communities of South America in the form of pure (99.99%) gold shot and 18 karat alloy shot for lost wax casting.
On request, we can also provide 18 karat gold thread and plate in the dimensions needed, as well as special alloys.
We refine the silver used in the 18 karat alloy electrolytically ourselves, and guarantee that it is obtained from products at the end of their life cycle, and therefore with no impact on mining.
Label
The fair trade gold that we offer is guaranteed to be from mining communities selected by ARM to participate as pilot projects for the development and evaluation of fair trade gold standards. These communities will be the first to obtain the label in the near future and enjoy the benefits of Fairmined certification, the first independent gold label.
Thanks to the efforts of our representative offices in Peru and Colombia and our control over the specialized refining of gold in our own facilities, we guarantee gold that is 100% "traced" and which will, once the first communities have received the Fairmined label, be certified by an independent third party.
To contact us or to request information or quotes on our products, please click here.